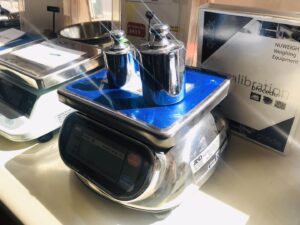 In short terms, it means checking the reading of a scale with a reference weight.
Why is scale Calibration so important?
Balance or Scale calibration is essential to achieve accurate weighting results. What's more, it is negligent to weight with a non-calibrated balance in trade.
What's the benefits of Calibration in Metro Business Systems?
Reliable – An accurate scales calibrated by our technicians will provide you accurate and reliable results.
Compliance – Smooth passing of internal and external audits.
Convenient – We located in 72 West Terrace, Adelaide CBS, SA 5000. Easy parking, fine build office and great art works which you can have a rest while waiting for the calibration
How to get the service?
Bring your scale into our workshop in our opening time and our team of technicians will gladly test the accuracy of any scale with an NMI approved weight. If you have any questions or need to book a time, you can submit an Enquriy Form or give us a call ( 8231 2288 ).
If your scale is out of calibration we are able to re-calibrate most scales within half an hour.
We can also professionally verify scales to NMI standards, providing a National Trade Measurement Certificate Of Verification. If your scale is used to sell to the public this is a compulsory document.